Start date:
Sunday, 24 September 2017
Venue:
TBC (Clanwilliam Showgrounds/ Sederberg Primary School)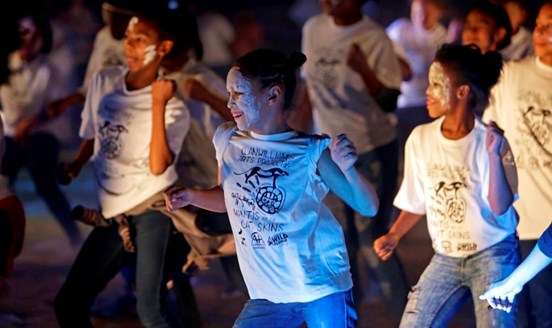 Back for the 17th year in a row! Magnet Theatre in patnership with The UCT Drama Department, The UCT College of Music and The Michaelis School of Fine Arts and Jazzart Dance Theatre, will be working with some 700 learners in the Western Cape town of Clanwilliam to resurrect the Clanwilliam Arts Project/ Lantern Festival . The project starts on the 24th of September and the facilitators and learners will be busy for week running workshops interpreting and re-enacting a story told by the Xam (Cape San) people who occupied the area they live in today, countless years ago.
The workshops culminate in a performance at which the results are enacted for the community. The performance is based on /Xam storytelling elements, including fire dancing, music and mythical objects made by the learners. It is preceded by a lantern-lit procession followed by the performance. Approximately 3 000 people witness this remarkable event every year, which is considered to be one of the Western Cape's best kept secrets.
Come and join us on the evening of Sunday 1st October for the parade and performance of THE LIZARD, THE BEETLE, THE MICE AND THE MANTIS
The chosen story always holds a modern-day lesson for the children, and is chosen each year from an archive of San narratives recorded by colonial linguists Lucy Lloyd and Wilhelm Bleek in the 1870s. This archive has formed the basis for the Clanwilliam Arts Project which is an ongoing collaboration between the University of Cape Town and Magnet Theatre.
Support South African History Online
Donate and Make African History Matter
South African History Online is a non profit organisation. We depend on public support to build our website into the most comprehensive educational resource and encyclopaedia on African history.
Your support will help us to build and maintain partnerships with educational institutions in order to strengthen teaching, research and free access to our content.