Thursday sees Trafalgar High School, located at the foot of District Six, marking 100 years of existence and according to school principal, Nadeem Hendricks, the celebrations will be drawing in ex-Trafalgarians from across the globe who have made their mark in every sphere of their societies. The celebrations start with a ceremony on Thursday morning for a school that defied Apartheid legislation and police brutality over a century, despite the fact that for the last 40 years students have had to be transported in to fill the school.
The school was established in 1912 after it was found that the Cape School Board had been gross neglectful about "non-European" education. Amongst others, an investigation found that "the School Board Act has conferred no benefit on the Coloured population. At the time, the education for Coloured was limited to the mission schools, which catered for primary education only. The Cape School Board, with a large Coloured population in its area, supported only three significant schools - Chapel Street, Albertus Street and Sea Point Tramway.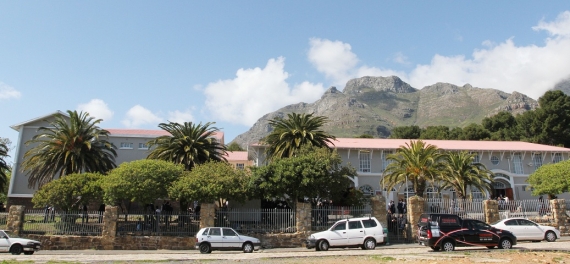 Trafalgar High School, located at the foot of District Six. Source: www.vocfm.co.za
The need for a high school for so-called Coloureds was actively propagated by Dr Abdullah Abdurahman, president of the African Political Organisation and Harold Cressy, the first Coloured person to obtain a BA degree at the University of Cape Town. After a lengthy process, the Cape School Board finally approved the new high school with Cressy as its first school principal and a total of 60 students in its first year, 32 of whom were girls.
In the 100 years since then, despite lacking basic facilities, the school has produced many students who had gone on to become distinguished in every field from sport to medicine, science, business and education. "The basic premise of the school is that education shall be directed to the full development of the human personality and to strengthening of respect for human rights and fundamental freedom. It shall promote understanding, tolerance and friendship among all people, irrespective of race, colour, or creed," the school states on its website.
Legacy
According to Hendricks, it is this belief that ensured that the school, its educators and learners played a pivotal role in the anti-apartheid struggle. While the surrounding community had been forcibly removed from District Six, plans to move the school were never realised given the schools dogged determination to stay put.
"Despite the fact that we had no people living within a kilometre of the school, Trafalgar's legacy was literally written on our walls. The agenda was always not only to destroy District Six, but to destroy our legacy as well. However, they failed. Our student population never dropped. They planned to close the school and make it a naval base, but our spirit was such that we continued to produce outstanding academic and sporting results that they could not close us down," Hendricks related. This saw the school maintaining a pass rate of 80 - 90%, he added.
Former student turned activist and attorney, Igsaan Higgins, said the school had not only provided a good education, thanks to excellent teachers, but it also taught its students survival skills. "We were one of the three schools who in 1985 decided to sacrifice that year and do it over due to the involvement in the student boycotts which brought this city to a standstill. This is a school that had a different way of thinking where we were pushed to get through to higher learning where the playing fields would be more level and in preparing us for that world, they made sure that we were also street wise," he said.
Now to capture the history, work is underway on a book being penned by siblings Goolam and Shireen Pandit. "It is not your typical research. Much has already been written about the history of the school, but we are looking at capturing the illustrious history, the wonderful experiences and anecdotes of the ex-Trafalgarians and educators whilst at the school. What has been amazing is that in capturing these stories, we have been liaising with former learners from across the world, many of whom have continued to support the school, no matter where they are based," Pandit said.
Various other celebratory activities are planned, a major one being scheduled at the end of April. "We expect 500 ex-Trafalgarians to fly from across the globe to be part of these celebrations. For now on Thursday we will have our academic assembly to kick things off and members of the cabinet have said that there is no way they cannot be there. Our theme for this centenary celebrations is 'celebrating Trafalgarians', which is why we established the new website which we hope will become a home to ex-learners."
According to Siraj Legget, who is responsible for the website and social media engagement, the website will also formally launch on Thursday. He called upon former students to help expand the site by adding to the rich online history of the school. Amongst others, they will be able to post their own experiences and pictures onto the website. You can visit the Trafalgar website at www.trafalgarhighschool100years.co.za. 
Support South African History Online
Donate and Make African History Matter
South African History Online is a non profit organisation. We depend on public support to build our website into the most comprehensive educational resource and encyclopaedia on African history.
Your support will help us to build and maintain partnerships with educational institutions in order to strengthen teaching, research and free access to our content.