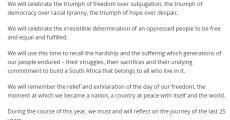 The 2019 State of the Nation address delivered by President Cyril Ramaphosa, 7 February 2019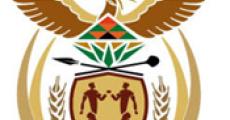 The State of the Nation Address (SONA) by the President of South Africa is a speech given by the sitting President of South Africa. It is normally an annual event but in national election years there is one before the election and then one after.
Matamela Cyril Ramaphosa was born in Johannesburg on 17 November 1952. He is the second of the three children of Erdmuth and Samuel Ramaphosa, a retired policeman. He grew up in the south western Native Township (Soweto), attending a local primary school and Sekano-Ntoane High School, Soweto.
Jacob Gedleyihlekisa Zuma (Msholozi – his praise name) was born on 12 April 1942 at Nkandla in northern Natal (now kwaZulu-Natal). He is the first born of five children of his father Nobhekisisa Zuma and his second wife, Geinamazwi. His mother had three sons with his father, Jacob being the eldest.
Nelson Rolihlahla Mandela is the son of Nonqaphi Nosekeni and Henry Mgadla Mandela, a chief and chief councillor to the paramount chief of the Thembu and a member of the Madiba clan.
Thabo Mvuyelwa Mbeki was born on June 18 1942, in Mbewuleni (meaning 'place of seed'), a tiny village in Idutywa in Transkei. His middle name 'Mvuyelwa' is Xhosa and means 'he for whom the people sing'. Both his parents were teachers, activists and members of the Communist Party of South Africa (CPSA later renamed the SACP).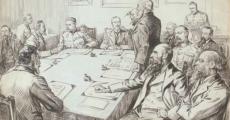 The New Constitution was negotiated between May 1994 and October 1996 in the country's first democratically elected convention, the Constitutional Assembly. However, the demand for a democratic constitutional dispensation was not new, and was in fact as old as South Africa itself.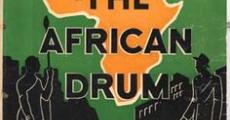 The establishment of Drum Magazine in the 1950s, notwithstanding the newly-elected Nationalist Party's policy of Apartheid, reflected the dynamic changes that were taking place among the new urban Black South African – African, Indian and Coloured – communities.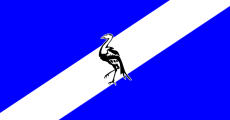 The Ciskei Bantustan in the Eastern Cape was created as an enclave for the South Africa's Xhosa-speaking people as part of apartheid racial segregation.
FEATURED BIOGRAPHIES

Henry Nxumalo was born in 1917 at Mvutshini, Margate, in what was then..

Read more

John Langalibalele Dube was born at Inanda Mission station of the Amer..

Read more

Lulu Dube was born in Inanda in 1931...

Read more