Posted by
Anonymous (not verified)
on
People category: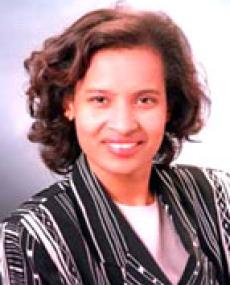 Biographical information
Synopsis:
fn active trade unionist and member of Umkhonto we Sizwe (MK), she received military training in Angola and the Soviet Union and was exiled in Zimbabwe, Zambia and Angola. She has recently held the position of Minister of Public Service and Administrat
Last name:
Fraser-Moleketi
Location of birth:
Cape Town, Western Cape (then Cape Province), South Africa
Geraldine Fraser was born in 1960 in Lansdowne, Cape Town. She received her primary education in Wynberg and matriculated at Livingstone High School in Claremont, Cape Town. She took part in student politics at Livingstone and was elected to its Student Representative Council.

References:
•
Geraldine Jocelyn Fraser-Moleketi [online] Available at:
anc.org.za
[Accessed 24 July 2009
•
Hon GJ Fraser-Moleketi (Geraldine Jocelyn) [online] Available at:
mbendi.co.za
[Accessed 24 July 2009]
•
Human Sciences Research Council
Last updated : 21-Jun-2012
This article was produced for South African History Online on 17-Feb-2011