Posted by
Anonymous (not verified)
on
People category: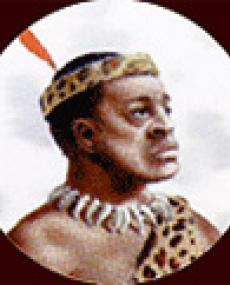 Biographical information
Synopsis:
fade King of the Zulu's once he defeated Dingane with the help of the Voortrekkers. He reigned as King from 1840 to 1872 and was succeeded by Cetshwayo.
First name:
Mpande kaSenzangakhona
Location of birth:
Babanango, Zululand (now KwaZulu Natal)
Date of death:
19 November 1872*
Location of death:
Nodwengu in Zululand (now KwaZulu Natal)
Mpande was king of the Zulu nation from 1840 to 1872, making him the longest reigning Zulu king. He was a half-brother of Shaka and Dingane, who both preceded him as kings of the Zulu. He was born in Babanango, Zululand.

References:
•
Mpande
. Online encyclopedia. nationmaster.com
•
Potgieter, D.J. et al. (eds) (1970). Standard Encyclopedia of Southern Africa, Cape Town: NASOU, v. 7, p. 626.
•
Wallis, F. (2000). Nuusdagboek: feite en fratse oor 1000 jaar, Kaapstad: Human & Rousseau.
•
Mpande
. Encyclopedia Article. encarta.msn.com
•
Cohen, Y.A. (unknown). Man in adaptation: the cultural present (2nd ed). Google books online
Last updated : 17-Feb-2011
This article was produced for South African History Online on 17-Feb-2011