Posted by
sahoboss
on
People category:
"I am interested in making large-scale paintings that can be used in public places with imagery that is totally accessible to everyone."
Paul Grendon was born in Cape Town, in the Western Cape. He received a Diploma in Fine Art from the Michaelis School of Fine Art at the University of Cape Town in 1982.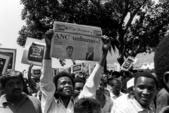 After leaving UCT, Grendon became a member of Afrapix and later worked as a freelance photographer and exhibition curator.

References:
•
Sue Williamson. (1989).
Resistance and Art in South Africa
. Cape Town: David Philip.
•
"Struggle Photography"
[online] Available at: answers.com [Accessed 20 April 2009]
Last updated : 01-Nov-2016
This article was produced for South African History Online on 17-Feb-2011