What is Gender-Based-Violence and who does it affect?
Gender-Based-Violence (GBV) is any violent act or action directed at a person on the basis of their gender. [1]  GBV is considered a global pandemic that affects approximately 35% of women worldwide. [2]  Although this is a shocking statistic, it is also important to note that a significant number of people affected by GBV are physically or emotionally unable to report their cases as they feel unsafe in doing so.  For example, in South Africa it is estimated that only 1 in 9 crimes of GBV are reported to the South African Police. [3]  Therefore, and unfortunately, the statistics on GBV are in reality higher and should be considered as a "dark and heavy shadow" [4] over society.
GBV and the "#MeToo" Movement
Before discussing the GBV movements in South Africa during September 2019, it is important to understand the general and global effort for social change regarding sexual harassment and acts of GBV.  In 2006, an American social activist, Tarana Burke, attempted to initiate a social movement for social change against GBV. [5]  This movement is known as the "Me Too" movement and is predominantly organized through online platforms and social media.   The movement gained significant momentum in 2017 as the actress, Alyssa Milano (who is known for roles in the television show, Melrose Place and the film, Who's the Boss), used her Twitter account (a social media platform) to popularize the "#MeToo" hashtag by encouraging those who saw the post  to share their stories of sexual harassment and abuse in order to create awareness of how various women are affected by sexual harassment in their daily lives on a daily basis. [6]  Consequently, more and more women have responded and joined the "Me Too" Movement in an attempt to create awareness surrounding this global issue.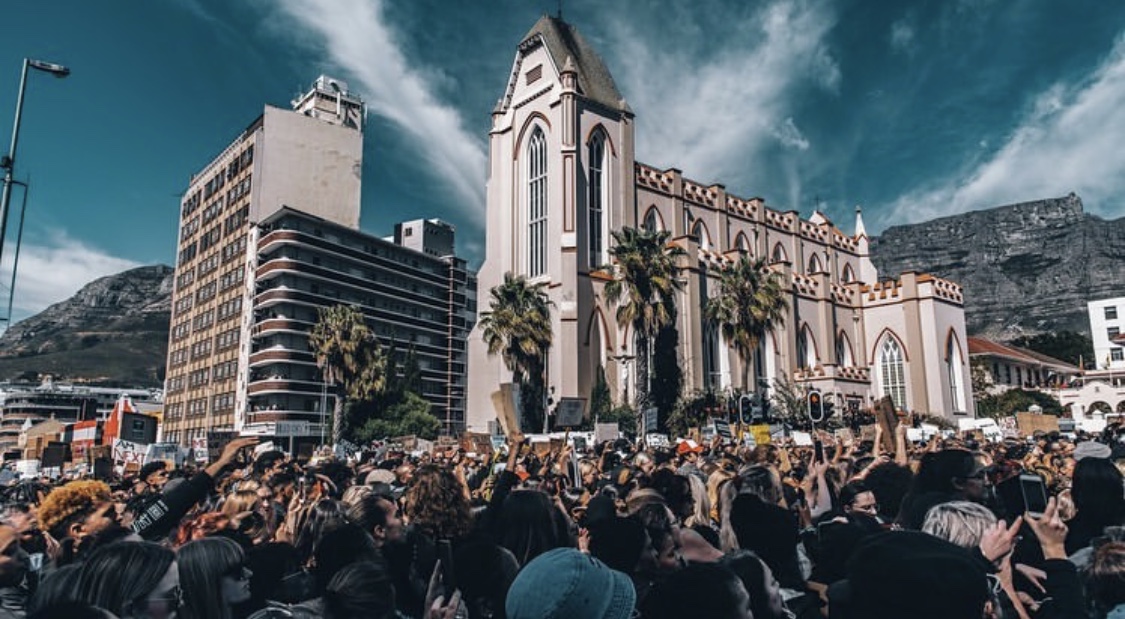 Protest in Cape Town against Gender-based Violence, 5 September 2019Image Source(Accessed on 28 February 2020).
Gender-based Violence:  A South African Context and a Cry for Solidarity
The Protest:  Am I Next?
In September 2019 a nation-wide cry against Gender-Based-Violence erupted in the streets of South Africa.  This cry echoed throughout South Africa following the violent deaths of Uyinene Mrwetyana, Jess Hess, Leighandre Jegels and many more. [7]  Due to the increasing number of GBV-acts in a short span of time, hundreds of members of the "Intersectional Women's Movement Against GBV" group and students took part in a protest outside the World Economic Forum on Africa summit in Cape Town on Wednesday, 4 September 2019. [8]  The Intersectional Women's March against GBV forms part of a broader movement, #TotalShutdown, which aims to change legislation concerning violence against women in order to improve the safety of all South African women. [9]  The protests continued on 5 September 2019 as thousands of South Africans gathered in solidarity on the streets of Cape Town in a march to parliament.  The crowd carried hundreds of signs crying for social justice with slogans such as "Enough is enough" and "Death penalty" (for the accused).   What was even more spine-chilling is that many protestors used the global "Me Too" hashtag and changed it into the shocking question, "Am I Next?" [10]  This march turned into one of the largest protests in recent South African history and caused significant shock-waves across South Africa. [11] 
The President and his response
After a few hours of "enough is enough", the shock-waves were finally felt and recognised by South African President, Cyril Ramaphosa, who addressed the crowd and the issue of violence against women in the country.  President Cyril Ramaphosa announced that "the assaults, rapes and murders of South African women are a stain on our national conscience" [12] and promised to visit and implement structures to address the issue of GBV.  President Ramaphosa continued and said that the country has to act before "anger, hopelessness and despair" [13] takes over South Africa.  Several days after the protest, on 16 September 2019, President Ramaphosa announced that the government will reallocate R1.1 billion to fight GBV in the country. [14]  Furthermore, on 18 September 2019, President Ramaphosa called for a joint sitting of the National Council of Provinces and the National Assembly.  During the assembly, President Cyril Ramaphosa called for a "five-point emergency plan" [15] to address GBV in South Africa (the full sitting can be watched on below:)
The points were as follows:
To prevent GBV
To strengthen the criminal justice system
To enhance legal and policy frameworks
To ensure adequate care, support and healing for victims of violence
To improve the economic power of women.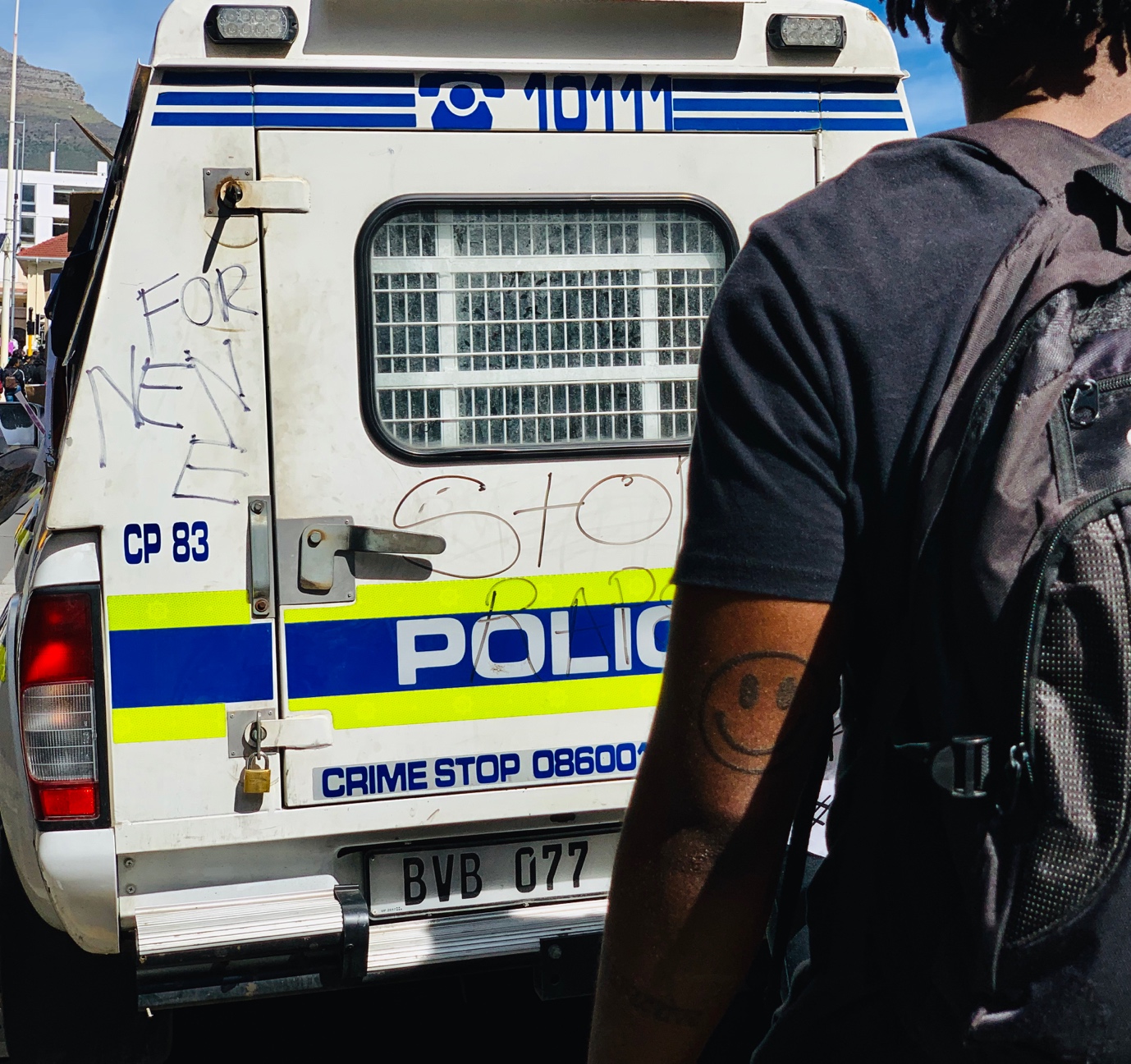 A protestor and a South African Police vehicle, that reads "For Nene" (Uyinene Mrwetyana) and "Stop Rape", at the march against violence in Cape Town on 5 September 2019. (Photograph by Simone van der Colff ©).
The Past:  Attempts to create awareness of GBV
Unfortunately, the protests in September 2019 were not the first,  but rather one of many.  In 2015, to name one other significant example, a silent march against GBV took place in Pietermaritzburg, Kwazulu-Natal.  The march was to create awareness surrounding GBV and attempts to promote 16 Days of Activism against Violence against Women. [16]  This act of solidarity saw thousands march to hand over a memorandum that demanded the government take more drastic steps against GBV as the statistics on femicide increases every year. [17]  However, and as the director of Lifeline (a 24-hour telephonic service that assists South Africans with any traumatic or emotional experiences), Sinikiwe Biyela, put it: "When the 16 days are up, people forget". [18]  This illustrates one of the main problems associated with the "dark and heavy shadow" that is GBV, as there have been many attempts and campaigns to end GBV, but none have led to the creation of a sustainable solution.
To illustrate this problem further, South Africa has been participating in the global "16 Days of Activism for No violence Against Women and Children Campaign" [19] since 1999, but there has not been any key improvement of the situation.  It is worth mentioning that in 2012, after the conclusion of the 16 Days Campaign in Rustenburg, then Deputy President Kgalema Motlanthe established the "National Council Against Gender-Based Violence" (NCGBV). [20]  The NCGBV's mission was to create the "drafting, costing and implementation" [21] of national strategic plans to fight GBV in South Africa.  However, the NCGBV was abandoned due to the lack of funding in 2014. [22]  Consequently, the National Strategic Plan on GBV Campaign has been launched in the attempt to continue the battle against GBV and improve on the shortcomings of the NCGBV. [23]  In 2014, the National Strategic Plan on GBV changed its title to, "Stop Gender Based Violence:  A National Campaign" and since then has been working on improving national strategies for GBV in South Africa. [24]
End notes
[1] Unknown Author,  "What is Gender-Based Violence," EIGE, (Updated:  2020), (Accessed:  28 February 2020), Available on  https://eige.europa.eu/gender-based-violence/what-is-gender-based-violence ↵
[2] Unknown Author, "Gender-Based Violence (Violence Against Women and Girls)," The World Bank, (Published:  25 September 2019), (Accessed:  13 March 2020), Available on https://www.worldbank.org/en/topic/socialdevelopment/brief/violence-against-women-and-girls ↵
[3] P. Mpani & N. Nsibande, "Understanding Gender Policy and Gender-Based Violence in South Africa," Tshwaranang Legal Advocacy Centre, p. 9. ↵
[4] J. Gerber, "Time for Talk is Over, say Ramaphosa on GBV and Xenophobia," News24, (Published:  18 September 2019), (Accessed:  13 March 2020), Available at  https://m.news24.com/SouthAfrica/News/time-for-talk-is-over-says-ramaphosa-on-gbv-and-xenophobia-20190918 ↵
[5] Author Unknown, "Understanding the Me Too Movement:  A Sexual Harassment Awareness Guide," Maryville, (Published:  2020), (Accessed:  13 March 2020), Available on  https://online.maryville.edu/blog/understanding-the-me-too-movement-a-sexual-harassment-awareness-guide/ ↵
[6] E. Nicolaou & C.E. Smith, "A #MeToo Timeline To Show How Far We've Come & How Far We Need To Go," Refinery29, (Published:  5 October 2019), (Accessed:  13 March 2020), Available at  https://www.refinery29.com/en-us/2018/10/212801/me-too-movement-history-timeline-year-weinstein ↵
[7] K. Ngcobo, "Activists demand 365-day campaign to tackle gender-based violence," IOL, (Published:  4 September 2019), (Accessed:  28 February 2020), Available at  https://www.iol.co.za/news/south-africa/western-cape/watch-activists-demand-365-day-campaign-to-tackle-gender-based-violence-31821776 ↵
[8] K. Ngcobo, "Activists demand 365-day campaign to tackle gender-based violence," IOL, (Published:  4 September 2019), (Accessed:  28 February 2020), Available at  https://www.iol.co.za/news/south-africa/western-cape/watch-activists-demand-365-day-campaign-to-tackle-gender-based-violence-31821776 ↵
[9] Unknown Author, "South African Women March Against Gender-based Violence," Al Jazeera News, (Published 1 August 2018), (Accessed:  3 March 2020), Available at https://www.aljazeera.com/news/2018/08/south-african-women-march-gender-based-violence-180801121509562.html ↵
[10] Unknown Author, "#AmINext:  A News24 Special Feature," News24, (Published:  September 2019), (Accessed:  20 March 2020), Available on  https://aminext.news24.com ↵
[11] A. Thom, "One voice at the Cape Town Protest: 'No f**king more'," Daily Maverick, (Published:  5 September 2019), (Accessed:  3 March 2020), Available at https://www.dailymaverick.co.za/article/2019-09-05-one-voice-at-the-cape-town-protest-no-more-no-fking-more/ ↵
[12] Unknown Author, "#AmINext:  A News24 Special Feature," News24, (Published:  September 2019), (Accessed:  20 March 2020), Available on  https://aminext.news24.com ↵
[13] J. Gerber, "Time for Talk is Over, say Ramaphosa on GBV and Xenophobia," News24, (Published:  18 September 2019), (Accessed:  13 March 2020), Available at  https://m.news24.com/SouthAfrica/News/time-for-talk-is-over-says-ramaphosa-on-gbv-and-xenophobia-20190918 ↵
[14] J. Gerber, "Time for Talk is Over, say Ramaphosa on GBV and Xenophobia," News24, (Published:  18 September 2019), (Accessed:  13 March 2020), Available at  https://m.news24.com/SouthAfrica/News/time-for-talk-is-over-says-ramaphosa-on-gbv-and-xenophobia-20190918 ↵
[15] Parliament of the Republic of South Africa, "Plenary, National Assembly, 18 September 2019,"  Youtube, (Published:  18 March 2019), (Accessed:  3 March 2020), Available at https://www.youtube.com/watch?v=n21ri3O1ht0 ↵
[16] Unknown Author, "No Word from the National Council on Gender-Based Violence," Sonke Gender Justice, (Published:  25 November 2015), (Accessed:  20 March 2020), Available at  https://genderjustice.org.za/news-item/no-word-from-the-national-council-on-gender-based-violence/ ↵
[17] Unknown Author, "Emotional Scenes Play out at the Pietermaritzburg #TotalShutDown March," Kwazulu-Natal Legislature, (Published:  2015), (Accessed:  20 March), Available on   https://kznlegislature.gov.za/emotional-scenes-play-out-at-the-pietermaritzburg-totalshutdown-march/ ↵
[18] D. Zondi, "Standing Together Against GBV," News24, (Published:  25 November 2015), (Accessed:  3 March 2020), Available at https://m.news24.com/SouthAfrica/Local/Maritzburg-Fever/standing-together-against-gbv-20151118-2 ↵
[19] Unknown Author, "The DBE takes part in the launch of the '16 Days of Activism for No Violence Against Women and Children' campaign," South African Government, (Published:  3 December 2012), (Accessed:  30 March 2020), Available at https://www.gov.za/st/node/623411 ↵
[20] Unknown Author, "Launch of National Council Against Gender-Based Violence," South African Government, (Published:  11 December 2012), (Accessed:  30 March 2020), Available at https://www.gov.za/services/launch-national-council-against-gender-based-violence ↵
[21]Unknown Author, "Stop Gender Violence:  A National Campaign," Sonke Gender Justice, (Published:  2019), (Accessed:  3 March 2020), Available on https://genderjustice.org.za/project/policy-development-advocacy/stop-gender-violence-national-campaign/ ↵
[22] Unknown Author, "No Word from the National Council on Gender-Based Violence," Sonke Gender Justice, (Published:  25 November 2015), (Accessed:  20 March 2020), Available on https://genderjustice.org.za/news-item/no-word-from-the-national-council-on-gender-based-violence/ ↵
[23]Unknown Author, "Stop Gender Violence:  A National Campaign," Sonke Gender Justice, (Published:  2019), (Accessed:  3 March 2020), Available on https://genderjustice.org.za/project/policy-development-advocacy/stop-gender-violence-national-campaign/ ↵
[24]Unknown Author, "Stop Gender Violence:  A National Campaign," Sonke Gender Justice, (Published:  2019), (Accessed:  3 March 2020), Available on https://genderjustice.org.za/project/policy-development-advocacy/stop-gender-violence-national-campaign/ ↵