Davidson Don Tengo Jabavu (D. D. T) Jabavu was born in the Cape Colony in 20 October in 1885. He was the eldest son of John Tengo Jabavu, a politician turned journalist who founded and also became the editor of the first Black-owned newspaper in 1884, Imvo Zabantsundu (Black opinion). His father was also a founding member of the South African Native College (later renamed the University of Fort Hare).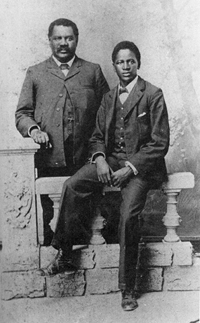 John Tengo Jabavu and his son Davidson Don Tengo Jabavu, around 1903
Davidson studied at Lovedale,then at Morija in Basutoland,where he learned to speak southern Sotho.When his father was unable to enroll him at awhite high school in King Willlams Town,he was sent to a Quaker high school in Colwyn Bay in Wales where he matriculated,then in 1906 entered the University of London,After gaining Bachelor of Arts (B. A) Degree at London University 1912  ,unsettle what proffession to pursue,he then  briefly attended a business college,following up with several months working for  a newspaper.With Quaker assistance Jabavu  then traveled  to the United State and spent three months at Tuskegee Insitute assessing the utility of Booker T. Washingston's "industrial education" and teacher's certificate at Birmingham University in Britain, Jabavu returned to South Africa in 1914 and took up a teaching position in languages as the first Black professor at the University of Fort Hare in 1916. He remained at the university for more than thirty years and also founded a Black teachers' association, which advocated better farming methods, stressed the value of manual work, and pleaded for racial co-operation,He retired in 1944,he was Fare Hare's most prominent faculty member.
He founded the South African Native Farmers' Associated (SANFA) for the improvement of agricultural practices,and was actively associated with the temperance movement. He was  for many years president of the Cape African Teachers' Assocition (CATA) and the South African Native Teachers' Federation (SANTF).He took part in the joint Council movement,the European-Bantu conference, and was a founding member of the South African Institute of Race Relations (SAIRR) in 1929,becoming one of its long-serving vice-presidents. He gave evidence  before numerous government commissions,and wrote pamphlets on a wide variety of subjects,including education,religion and politics.Healso addressed meeting in Jerusalem 1928,the United States 1932 and India 1949.
He was President of the All-Africa Convention (AAC), an umbrella organisation that consisted of several organisations that were opposed to the segregation legislations passed by the Hertzog Government in 1936.Rhodes University conferred an honorary doctorate on him in 1954. Among his literary publications were The Black Problem (1920), The Segregation Fallacy and Other Papers (1928) and The life of John Tengo Jabavu, editor of Imvo Zabantsundu (1922) and IziDungulwana (1958)