In July 1977, These two ships; Antipolis and Romelia, were both bound for the scrap heap in Taiwan. A Japanese tugboat named the Kiyo Maru 2 had the arduous task of hauling the two tankers all way from Greece. Unfortunately there was the misfortune; of running into a strong northwesterly gale as it approached Robben Island. The tug had made an unscheduled stop in Abidjan, (a City on the Southern Atlantic coast of Côte d'Ivoire, in West Africa) because of some minor engine trouble. All then went well, until the convoy approached Table Bay in the teeth of a North Westerly gale! The Port Captain at Cape Town advised them not to enter Table Bay as he thought the weather was worsening and he was worried that the two tankers would not have enough sea room.
The tow-cable attached to the Antipolis snagged on the seabed, and the Romelia exacerbated the situation by moving ahead of the Kiyo Maru 2 and getting the cable stuck under the tug boat's hull. Needless to say, the situation ended with both tankers being blown ashore, after the crew of the tug boat was forced to cut through the cable with a gas torch. The top portion of the Antipolis was scuttled, but the remains are still visible above the surface.
Once it was unburdened, the Romelia was also blown towards the shore. It was cast ashore at Sunset Rocks, Llandudno. According to 'Submerged', the tanker broke its back and sunk in two halves.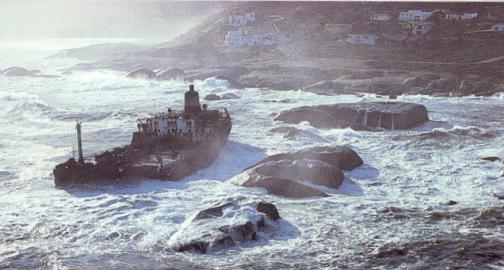 Romelia on Sunset Rocks
The Antipolis, along with the Romelia, are two of the most well-known shipwrecks in Cape Town because they are visible to onlookers under the right conditions. The wreck has become a popular shore dive and it was quite visible at low tide.
The City of Cape Town said the remains of the Antipolis wreck, washed up at 12 Apostles Beach because of increased wave and wind activity after the full moon!
Geolocation
-33° 59' 2.4", 18° 21' 21.96"