The shards of South Africa's fragmented history share a common thread throughout; at the core is a struggle for equality and visibility. Over the course of the country's fight for democracy, there have been countless women who's incredible strength and bravery has shaped South Africa as we know it today. Some of these women are easily recognized national icons, such as Winnie Madikizela-Mandela, Albertina Sisulu or Fatima Meer. However, there are women who's stories may not be as widely known, but are just as integral to the establishment of a nation no longer defined by prejudice and segregation. These are the incredible LGBTQI+ women who have fought for not only their rights, but the rights of an entire people.
Regarded as icons within the LGBTQI+ community, these women have challenged the notions of gender, hegemony and democracy itself in a bid to create a more equal and accepting world. This women's month, we highlight five of these icons and remember how their struggles have played a part in establishing a more conscious South Africa, not only for the LGBTQI+ community, but for all.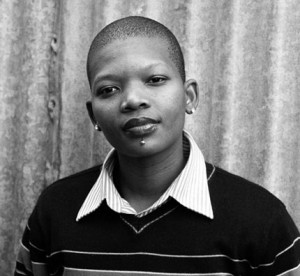 Eudy Simelane was a successful soccer player, active LGBTQI+ activist and one of the first women to live as openly lesbian in her home town of KwaThema, Springs, Gauteng. She played as a midfielder for her local Springs Home Sweepers team, as well as for the South African woman's national soccer team (Banyana Banyana) and used her status as a local soccer celebrity to foster a LGBTQI+ friendly culture in her community, establishing her as an inspiring and important LGBTQI+ icon. On April 28, 2008, Simelane was killed while leaving a local KwaThema pub. The incident made national headlines as a case of "correctional rape"; the idea that raping an LGBTQI+ identifying woman will "cure" her of her sexuality. Following Simelane's death, her family worked with the University of KwaZulu-Natal (UKZN) towards creating spaces facilitating dialogue between the LGBTQI+ community and conservative religious leaders. From this project, the conceptualization of a public event as a forum for the intersection of religious doctrine and sexuality was born, culminating in the establishment of the Eudy Simelane Lecture. The annual lecture aims to facilitate a process of change within faith-based organizations and religious society, opening the way for the possibility of LGBTQI+ acceptance by religious groups and establishing religion as a place of sanctuary rather than potential weapon against the LGBTQI+ community.
2. Sally Gross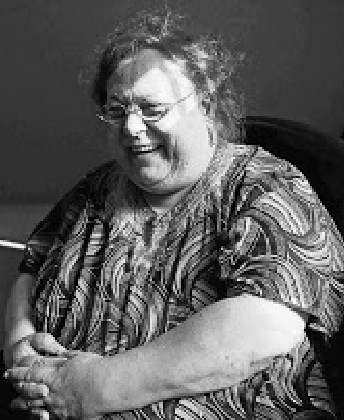 Sally Gross is one of the most challenging and important figures in our country's history. Born intersex and raised as a boy named Selwyn, the struggles and discrimination faced by Gross as an intersex individual instigated a lifetime of activism and an essential inquiry into the treatment of the intersex community in South Africa. Gross was increasingly politically active and became a member of the ANC. Feeling increasingly alienated from her Orthodox Jewish faith, she was baptized into the Roman Catholic Church in 1976. In the same year, the Soweto Riots took place. In response, Gross wrote a draft programme which included an armed struggle clause as well as a clause on co-operation with the then banned ANC. After a copy of this draft went missing, Gross left South Africa as a political refugee. What followed was a time of immense self-discovery, which led Gross to begin her life as Sally. Following Gross's choice to identify as female, she faced a number of problems on the grounds of her gender identity.  Following her acknowledgment of her intersex identity, Gross was stripped of her clerical status by the Church and was completely shut out of the community. Home Affairs was unable to issue her with suitable identity documents, a refusal which rendered her practically nonexistent in accordance to the law. Following her experiences, Gross became a vocal advocate and activist for intersex rights, advocating that the protocol of performing "corrective" surgery upon the birth of an intersex child be eradicated. In 2010, Gross founded the organization "Intersex South Africa" (ISSA), which she directed up until her death.
3. Kewpie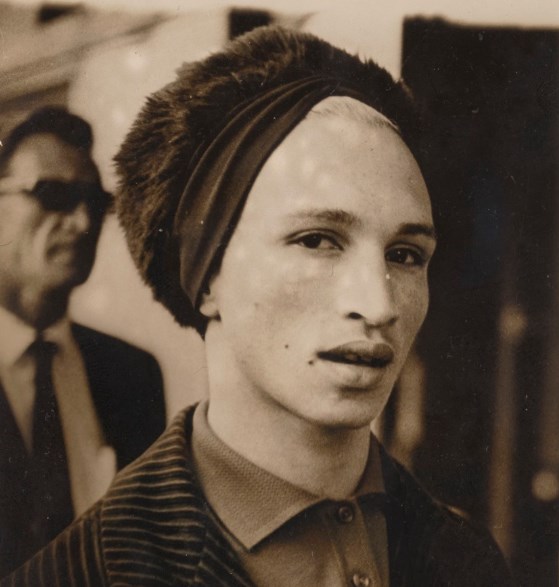 Kewpie was a hairdresser and iconic queer figure from District Six. A gender fluid individual who identified by female pronouns, Kewpie was a seminal nightlife figure who organized balls and celebrations uniting the LGBTQI+ community with the larger community of District Six. Her life is one which excavates a hidden archive of local queer lives and culture. Born from the enforced conditions of pre-Democracy South Africa, Kewpie is a seminal chapter in South Africa's mostly untold queer (her)story. Kewpie established herself as cultural icon for the people of District Six. She was respected by the community despite her consistent challenge to the norm. Preceding the forced removals of 1968, Kewpie refused to leave her home and the community which she had been integral in fostering. The eventual disintegration of District 6 left Kewpie deeply depressed. She continued to serve her community into her older years, even after being diagnosed with throat cancer. In 2018, her story and the mostly unknown queer (her)story of District Six was given a national stage when the exhibition, "Kewpie: Daughter of District Six" made a collection of over 700 photographs of Kewpie's life in District Six available to the public.
4. Julia Nicol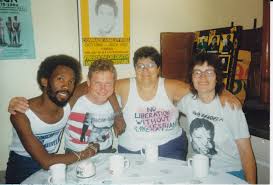 Julia Nicol worked actively as an anti-apartheid activist in the late 1980s and early 90s, particularly concerned with the anti-discrimination rights for LGBTQI+ people. She and her partner Sheila Lapinksy were active members of a number of Cape Town based LGBTQI+ organizations, and founding members of Lesbians and Gays against Oppression/Organization of Lesbian and Gay Action (LAGO/OLGA). Together the partners lobbied for the rights of the LGBTQI+ community to become constitutionally recognized in the midst of the freedom movement, particularly within the African National Congress (ANC). Nicol was involved in drafting an influential proposal to the ANC Constitutional Committee in 1990, calling for the rights of LGBTQI+ individuals to be recognized and constitutionally protected. This highly influential proposal was eventually ratified in 1992.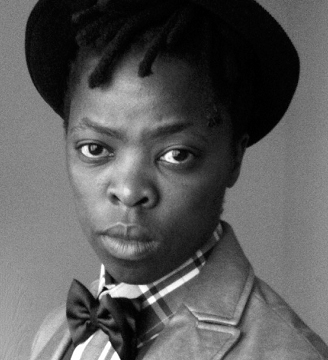 Zanele Muholi is a prolific photographer and visual activist based in Johannesburg. Recognized for its radical emphasis on marginalized communities in South Africa, queerness, blackness, femininity and the intersections in between, Muholi's work has attracted attention from academic circles, intersectional feminists, LGBTQI activists, and the international art world. Muholi has won numerous awards including the Outstanding International Alumni Award from Ryerson University (2016) and the  Casa Africa award for best female photographer. Across her work, she chronicles that which is systematically erased from both South African and international narratives: lesbian weddings, trans men dressing in tuxedos, survivors of 'corrective rape,' lovers in bed together. For the past few years, Muholi has largely turned the camera around on herself, practicing self-documentation in the form of portraiture and performance. An ongoing project, "Somnyama Ngonyama" finds the artist using self-portraiture as a tool of intimacy, serving as commentary on contemporary political and cultural issues that affect black people in Africa and its diaspora.
References
Coan, S. "The Journey from Selwyn to Sally", The Natal Witness, 21-23 February 2000. Available at https://www.news24.com/Archives/Witness/The-journey-from-Selwyn-to-Sally-20150430 online. Accessed 17/07/19.
Elizabeth, M. "Kewpie: Daughter of District Six' // A Narrative of Queer Resilience", The Bubblegum Club, May 2019. Available at https://bubblegumclub.co.za/photography/kewpie-daughter-of-district-six-a-narrative-of-queer-resilience/ online. Accessed 20/07/19.
Gay and Lesbian Archives of South Africa (GALA). "Kewpie Photographic Collection, ca. 1950s to 1980s". Available at https://www.digitaltransgenderarchive.net/downloads/xw42n8281 online. Accessed 20/07/19.
Gay and Lesbian Archives of South Africa. "Remembering and Honoring Julia Nicol", April 2019. Available at https://gala.co.za/wp-content/uploads/2019/04/Julia-Nicol.pdf online. Accessed 18/07/19.
Isaacson, M. "Sally Gross: The fight for gender equality loses a giant", The Daily Maverick, 25th February 2014. Available at https://www.dailymaverick.co.za/article/2014-02-25-sally-gross-the-fight-for-gender-equality-loses-a-giant/ online. Accessed 17/07/19.
Kelly, A. "Raped and killed for being a lesbian: South Africa ignores 'corrective' attacks", The Guardian, 12 March 2009. Available at https://www.theguardian.com/world/2009/mar/12/eudy-simelane-corrective-rape-south-africa online. Accessed on 17/07/19.
Linder, B. "Today in History: Former Banyana Banyana player, Eudy Simelane, is found raped and murdered", Roodeport Northsider, 28 April 2019.
Available at https://roodepoortnorthsider.co.za/294567/today-in-history-former-banyana-banyana-player-eudy-simelane-is-found-raped-and-murdered-web/ online. Accessed on 17/07/19.
Mdoda, M. "Meet Kewpie, The Rediscovered Daughter of District 6", Afropunk, 23 May 2019. Available at https://afropunk.com/2019/05/kewpie-cape-town-south-africa-queer-trans-gay-photo-archive/ online. Accessed 20/07/19.
Petersen, T. "Call me Kewpie – celebrating a daughter of District Six this Heritage Day", News24, 24th September 2018. Available at https://www.news24.com/SouthAfrica/News/call-me-kewpie-celebrating-a-daughter-of-district-six-this-heritage-day-20180924 online. Accessed 20/07/19.
Press Release. "Eudy Simelane Lecture on Body Theology & Human Sexuality", University of Kwa-Zulu Natal & Ujamaa Centre. Available at http://ujamaa.ukzn.ac.za/WhatUJAMAAdoes/LECTURES/lecture_BODY.aspx online. Accessed on 17/07/19.
Smith, D.(2009). "Life for Man in Rape and Killing of Lesbian South African Footballer", The Guardian, 22 September 2009. Available at https://www.theguardian.com/world/2009/sep/22/eudy-simelane-gangrape-and-murder online. Accessed on 17/07/19.
Tatchell, P.  "South Africa: How the ANC was won for LGBT rights",  20th February 2019. Available at https://www.petertatchellfoundation.org/south-africa-how-the-anc-was-won-for-lgbt-rights-2/ online. Accessed 18/07/19.