Gcinisizwe Sylvester Khwezi Kondile  also known as Sizwe or Tshonyi[1] was born on the 6th of October in 1957. He was originally from Port Elizabeth. He was the son of Charity Kondile (mother) and Dumile Kondile (father) who was the Chief Magistrate of Port Elizabeth and who later became a judge on the Natal Bench[2]. Kondile went to Amanzimtoti High School in the former Natal and later enrolled in Fort Hare University for Bjuris degree in 1976[3]. Kondile was an anti-apartheid activist and a member of Umkhonto weSizwe.
Going into exile
While a student at the University of Fort Hare in 1980, Kondile was detained with his childhood friend Vusi Pikoli for planning a memorial for Steve Biko[4]. Soon after in September 1980, Kondile and his best friend Pikoli fled the country, and later joined the African National Congress (ANC) in exile in Lesotho[5]. They fled the country because two of their cell mates Thembi Mbiyabo and Nangamso Nzube were captured. Lesotho was the most secure course of action following their capture[6]. They continued with their military training in Lesotho.
Death
In July 1981, while he was driving Chris Hani's vehicle, security police abducted him[7]. He was brought to the Eastern Cape, where the Eastern Cape Security Police tortured and interrogated him for weeks  in an effort to make him a double agent[8]. He sustained head injuries from the torture[9]. Security police decided to assassinate him when they realized he was not cooperating[10]. Kondile was released on the 10th   of August  in 1981. He was then taken to a location on a private farm where the SADF had previously staged the Matola Raid in the Komatipoort region near the Mozambique border[11]. He was then drugged with knockout drops from Lothar Neethling who was a police forensic laboratory head general[12]. A group composed of former Vlakplaas agent Dirk Coetzee and several of his associates as well as officers of the Eastern Cape Security Police then shot him and burnt his body on fire[13]. According to the Security Police, they had a braai and drank alcohol while the body burnt throughout the night[14]. The next morning, nothing but ashes remained[15].
Spiritual Repatriation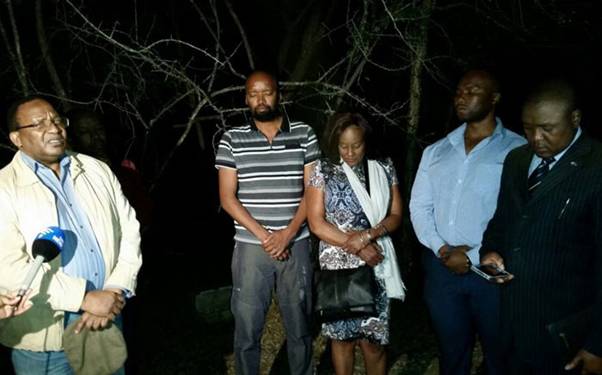 Sizwe Kondile's family on the day of his spiritual repatriation. Source: Eyewitness NewsImage Source
In the border town of Komatipoort, Mozambique, where Sizwe Kondile is thought to have been killed and his remains burned, there was a spiritual repatriation of Kondile between June 30 and July 1, 2016[16]. At South Africa's freedom park in Pretoria, a symbolic burial was performed[17]. In his hometown, the symbolic remains were buried, and today Kondile's name is commemorated on a wall in Zwide cemetery[18]. From the time Sizwe vanished in Maseru, Lesotho, in June 1981 until Coetzee's discovery in 1989, he was characterized as an enemy agent who had betrayed the ANC[19]. Coetzee and the other perpetrators of the crime all received amnesty at the Truth and Reconciliation Commission (TRC)[20]. Kondile was awarded with the Order of Mendi (Gold), a posthumous honour for his bravery on the 17th of November 2021, 40 years after his death[21]. Kondile's body is yet to be discovered.
Kondile left behind his son Bantu,  his mother Charity Kondile and his father Dumile Kondile. Kondile also left behind his sister Lindiwe Kondile and his brother Mthetheleli Kondile.  
References
Daily Maverick. 2021. Remembering my friend Sizwe Kondile, brutally murdered by apartheid police. 17 November. Book extract from ''My Second Initiation'' by Vusi Pikoli and Mandy Wiener (Publisher: Pan MacMillan). Available: Remembering my friend Sizwe Kondile, brutally murdered... (dailymaverick.co.za) Accessed [2022, July 19]
Department of Military Veterans. 2016. Spiritual Repatriations from Komatipoort. 01 July. Available: Spiritual Repatriations from Komatipoort — The Department of Military Veterans (dmv.gov.za) Accessed [2022, July 19]
Ho, A. 2021. Posthumous of bravery for Sizwe Kondile, one of South Africa's forgotten heroes. Daily Maverick. 17 November. Available: Posthumous honour of bravery for Sizwe Kondile, one of... (dailymaverick.co.za) Accessed [2022, July 18]
Moosage, R., 2018. Missing-ness, History and Apartheid-era disappearances: The figuring of Siphiwo Mthimkulu, Tobekile 'Topsy'Madaka and Sizwe Kondile as missing dead persons.
Msimang, S., 2018. All is not forgiven: South Africa and the scars of apartheid. Foreign Aff., 97, p.28.