Posted by
sahoboss
on
People category:
Gille de Vlieg was born in 1940 in Plymouth, England. She was trained as a nurse and worked in Pietermaritzburg and London. De Vlieg then moved to Johannesburg and in 1982 she became a member of Black Sash advice office in Khotso House, where Afrapix had its offices.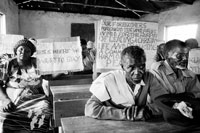 It was here that she claims to have recognised that she "could be both an 'activist' and a 'photographer'". In 1984 in KwaNgema, after documenting various "black spots" in the rural Transvaal for four years, Gille met Paul Weinberg who encouraged her to become a part of Afrapix.
During the same year, a Tembisa COSAS organizer introduced her to the life of a chaotic township. This further encouraged her to use photography as a tool of protest.
In her own words, "I wanted to make a contribution to an alternative view of South Africa, a view not seen on the South African TV screen then."
In 1987 she participated in the Culture in Another South Africa Conference that took place in Amsterdam. She joined the group exhibition "Taking Sides" in 1989, and took part in other Staffrider exhibitions.
De Vlieg now lives on the Natal South Coast.

References:
•
Gille De Vlieg
[online] Available at: gille.co.za [Accessed 20 April 2009]
•
Interview conducted by SAHO CEO Omar Badsha
Last updated : 13-Mar-2018
This article was produced by South African History Online on 17-Feb-2011
Support South African History Online
Donate and Make African History Matter
South African History Online is a non profit organisation. We depend on public support to build our website into the most comprehensive educational resource and encyclopaedia on African history.
Your support will help us to build and maintain partnerships with educational institutions in order to strengthen teaching, research and free access to our content.