David Goldblatt, one of South Africa's most famous documentary photographers, is internationally acclaimed for his work. The grandson of Lithuanian-Jewish immigrants, he was born on 29 November 1930 in the small mining town of Randfontein, Johannesburg, Transvaal (now Gauteng). David was the third son of Eli Goldblatt and Olga Light, both of whom came to South Africa as children with their parents to escape the persecution of the Lithuanian-Jewish communities in the 1890s.
David's interest in photography was sparked by his mother giving him a camera. His brother, Dan, had served in the merchant navy and had brought a Contex camera home after his service. David's parent's purchased this camera, thus encouraging him to pursue his interest in photography.
In 1948 David matriculated and set his sights on a career in photojournalism. He was largely influenced by the work of the famous photographers working for American-European magazines such as Life and Picture Post. In the 1950s, David started photographing the unfolding political campaigns mounted by the Congress Alliance, however he found the pursuing of news very unrewarding.
In 1955 he married Lily and they had three children. Influenced by their beliefs - and not wanting to bring their children up in a racist society, David and Lily decided to immigrate to Israel. Their plans were put on hold when David's father became ill with cancer and someone had to take over the family's men's outfitting business. David undertook the responsibility whilst studying part-time at Witwatersrand University in Johannesburg. In between running the family business and studying for his Bachelor of Commerce degree, David continued to take photographs in his spare time. After the death of his father in 1962, David sold the family store and on 15 September 1963, at age 33, he ventured out to work full time as a professional photographer.   
David became part of the intellectual and artistic community of white Johannesburg; he became friendly with many of Johannesburg's leading white liberal literary and artistic figures. It was through his friendship with the writer Lionel Abrahams, who was the editor of the work of Herman Charles Bosman, that David began exploring and photographing  the Afrikaner farming community of the Groot Marico district in the then Western Transvaal.
His big break as a photographer came in 1964 when he was given a number of assignments by Sally Angwin, the editor and owner of the avant-garde Tatler magazine. David did a feature for the magazine on the Anglo-American Corporation and this eventually led to long and important association with Anglo's in- house magazine, Optima.
David's association with Optima gave him access to the mining operations of the most powerful South African company. This, in turn, allowed him, over the next decade, to complete his book On the Mines (published in 1973), as well as to travel around the country taking photographs for his seminal book Some Afrikaners Photographed  (1975). He also worked on a book about middle class which South African's, In Boksburg, as well as projects on Transkei, Soweto and the city of Johannesburg.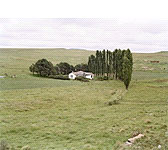 By the end of the turbulent 1970s, Goldblatt had built a reputation as one of the country's leading documentary photographers. While he was like most progressive white liberals, privately opposed to the Afrikaner Nationalist government, he steadfastly avoided any active political involvement and did not photograph any of the turning points in South African history, such as the 1973 Durban strikes or the June 16th youth uprisings. In 1972 Goldblatt spent six months photographing in Soweto and from 1976 – 1977 he travelled  on a bicycle photographing mainly the Johannesburg Indian area of Fietas - the community was facing removal in terms of the government's Group Areas Act which forcefully removed people to new segregated townships.  In 1979 Goldblatt began working on a project about life in a typical white suburb of the Transvaal – this lead to the publication of the book In Boksburg.
In the 1990s, Goldblatt argued that he would neither join a political organisation - because he was not a "joiner" - nor allow his work to be used "by either side of the struggle" for propaganda purposes. Nonetheless, he participated in the Staffrider Exhibitions, organised by the leftwing anti-apartheid photographers' collective, Afrapix. He also participated in the seminal exhibition, South Africa the Cordoned Heart (1985) curated by fellow photographer Omar Badsha, a founder of Afrapix. He was asked by Badsha to cover the story of workers who travelled an average of four hours per day by bus between the homelands and cities like Pretoria. This assignment led to the book The Transported of KwaNdebele: a South African Odyssey, (published in 1989).  
Goldblatt was present at the 1982 Culture and Resistance Conference in Botswana where he argued against photographers using their craft "as a weapon" in the struggle. He argued that the role of a photographer was to go beyond the surface of things and to make a far more compelling argument against the system of white rule.
In the 1980s Goldblatt teamed up with Hugh Murray, the owner and editor of Leadership magazine, which was directed at the corporate world. Goldblatt's role as the photographic editor of the magazine gave him the opportunity to publish the work of many of the younger documentary photographers.
In the 1980s Goldblatt also began working on a 15 year project that would culminate in the publication of South Africa the Structure of Things Then (published in 1998). In 1985, the London office of the African National Congress (ANC) called for a boycott of his exhibition that was touring Britain. The ANC made this call as it believed that he had defied the cultural boycott and that he worked for Anglo-American Corporation. Subsequently, the boycott was relaxed when people like Badsha and the acclaimed South African novelist, Nadine Gordimer, called for the boycott to be lifted against him.
Goldblatt then donated the entire exhibition to the Victoria and Albert Museum in London. In 1989, together with some friends, Goldblatt raised funds to set up the Market Photography Workshop in Johannesburg.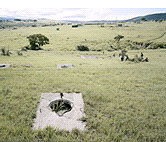 What is not well known is that Goldblatt initiated the first open dialogue between the South African captains of capital and the ANC. He and Murray were in Lusaka to do a feature on President Kaunda and after the interview Goldblatt suggested that they try and get an interview with Oliver Tambo, the head of the then banned ANC. This meeting Murray set the ball rolling and the first meeting between Capital and the ANC was held in 1985 in Lusaka.
In 1992 David Goldblatt joined South Light, a photographic agency established by Paul Weinberg and other photographers after they left Afrapix. 
On the 8 March 2006, Goldblatt was honoured for his portrayal of social and political life in the country of his birth. He received the 2006 Hasselblad Foundation Award in photography, which is considered the most prestigious photographic award. He was one of the first South African artists to be represented in the New York Museum of Modern Art and his work is exhibited and collected in some of the leading galleries around the world. Goldblatt continued to work until his death.
The Goodman Gallery in Johannesburg houses and exhibits a great deal of his life's work. It said recently an agreement with Yale University, United States of America was signed, transferring Goldblatt's entire archive of negatives to the university. The Gallery also added that a digital archive of his work will be created in South Africa and made available to the public for free through an initiative named the Photographic Legacy Project.
His book, Particulars, was awarded the Arles Book Prize for 2004. In 2006 he was given the Hasselblad Foundation International Award in Photography and in 2009 the Henri Cartier-Bresson Award. He received honorary doctorates from the University of Cape Town and the University of the Witwatersrand and the San Francisco Art Institute. His work has been exhibited in museums in South Africa, United States, Europe and Australia and is held in many public and private collections. In 1989, Goldblatt founded the Market Photo Workshop with the principal objective of teaching visual literacy and photographic skills to people disenfranchised by apartheid. 
David Goldblatt passed away in Johannesburg, Gauteng, South Africa, on Monday, 25 June 2018.
Goldblatt is survived by his wife Lily, three children and two grandchildren.
David Goldblatt Book Covers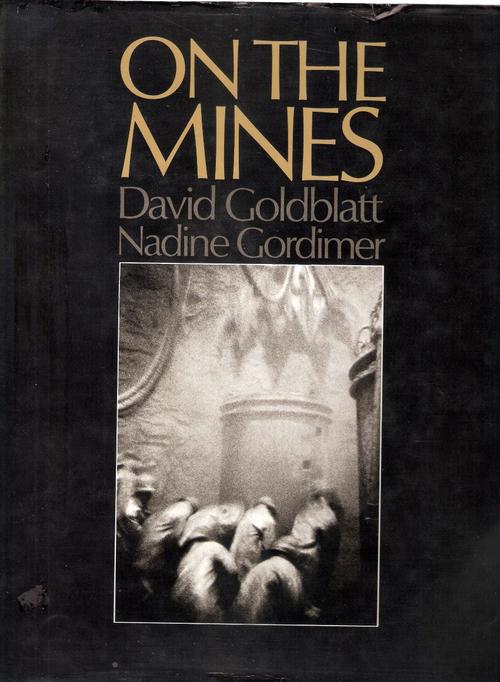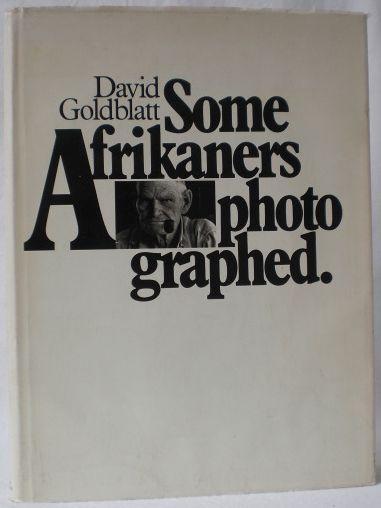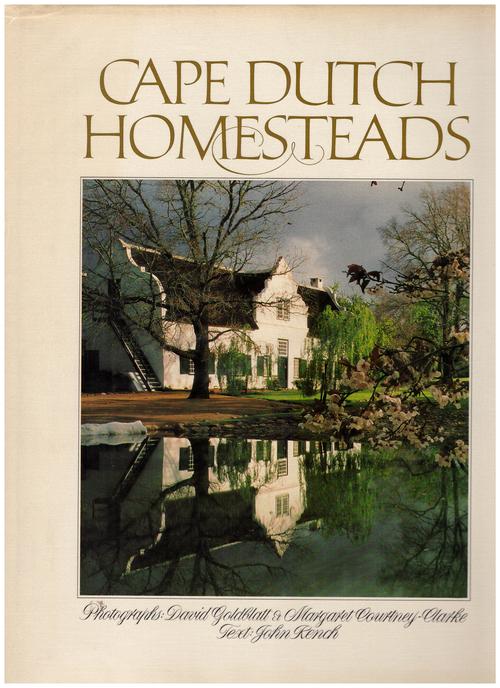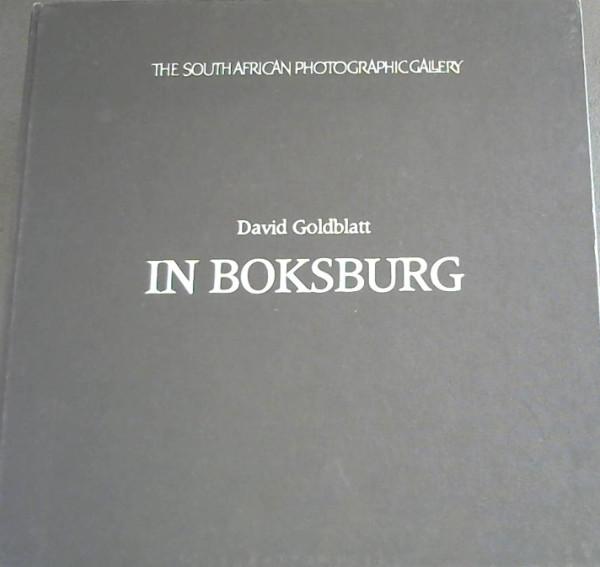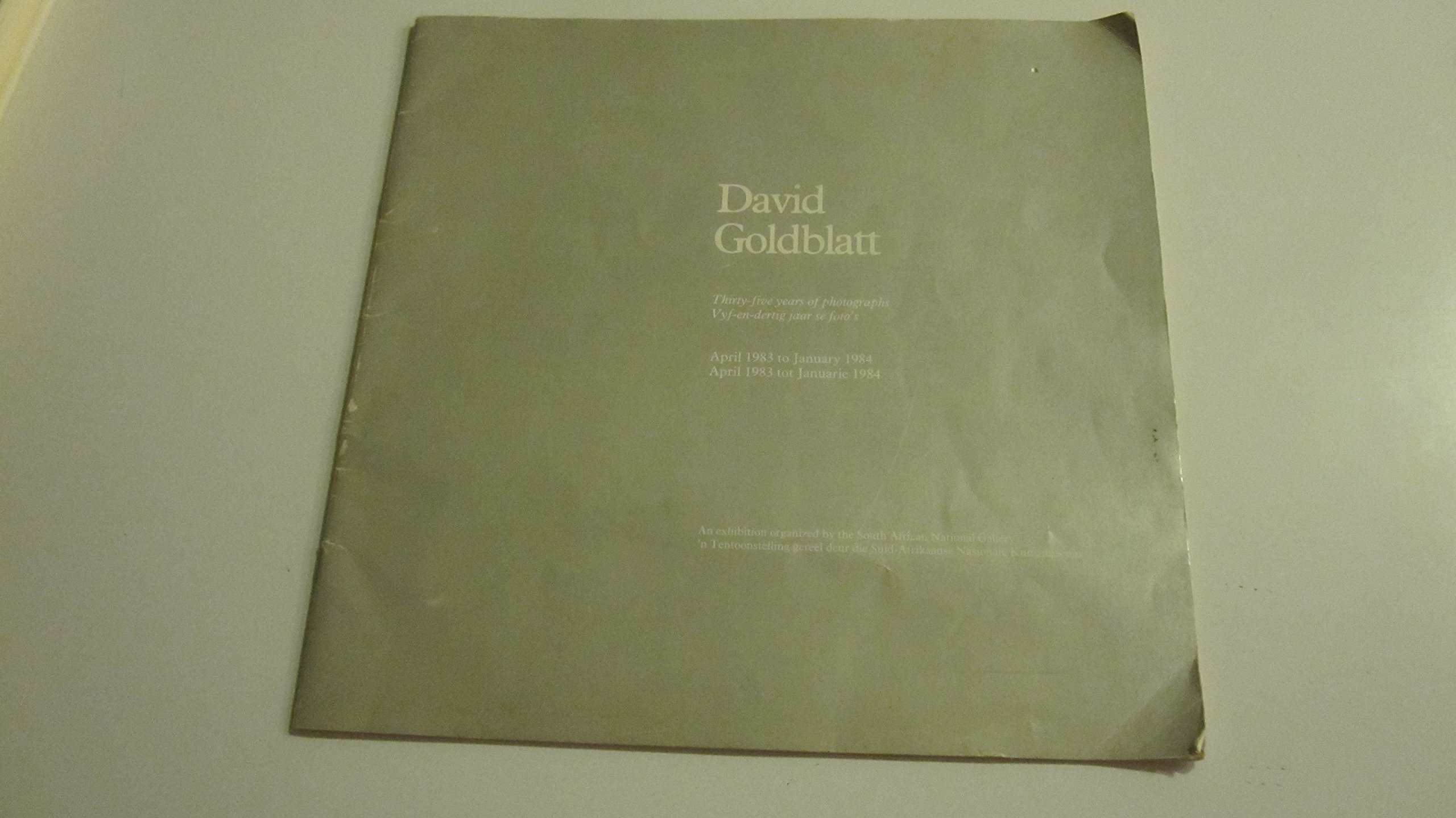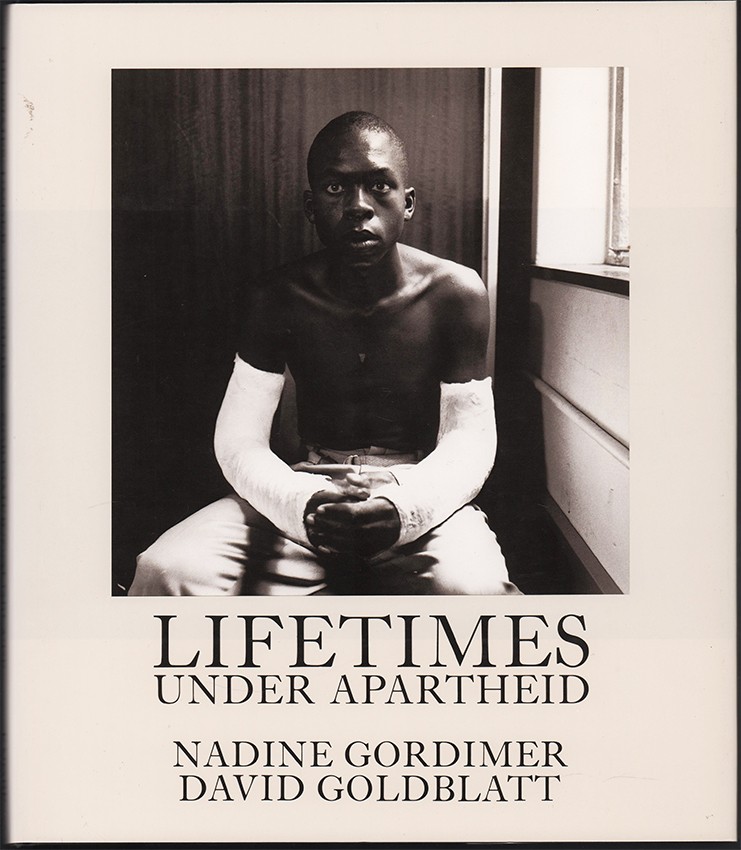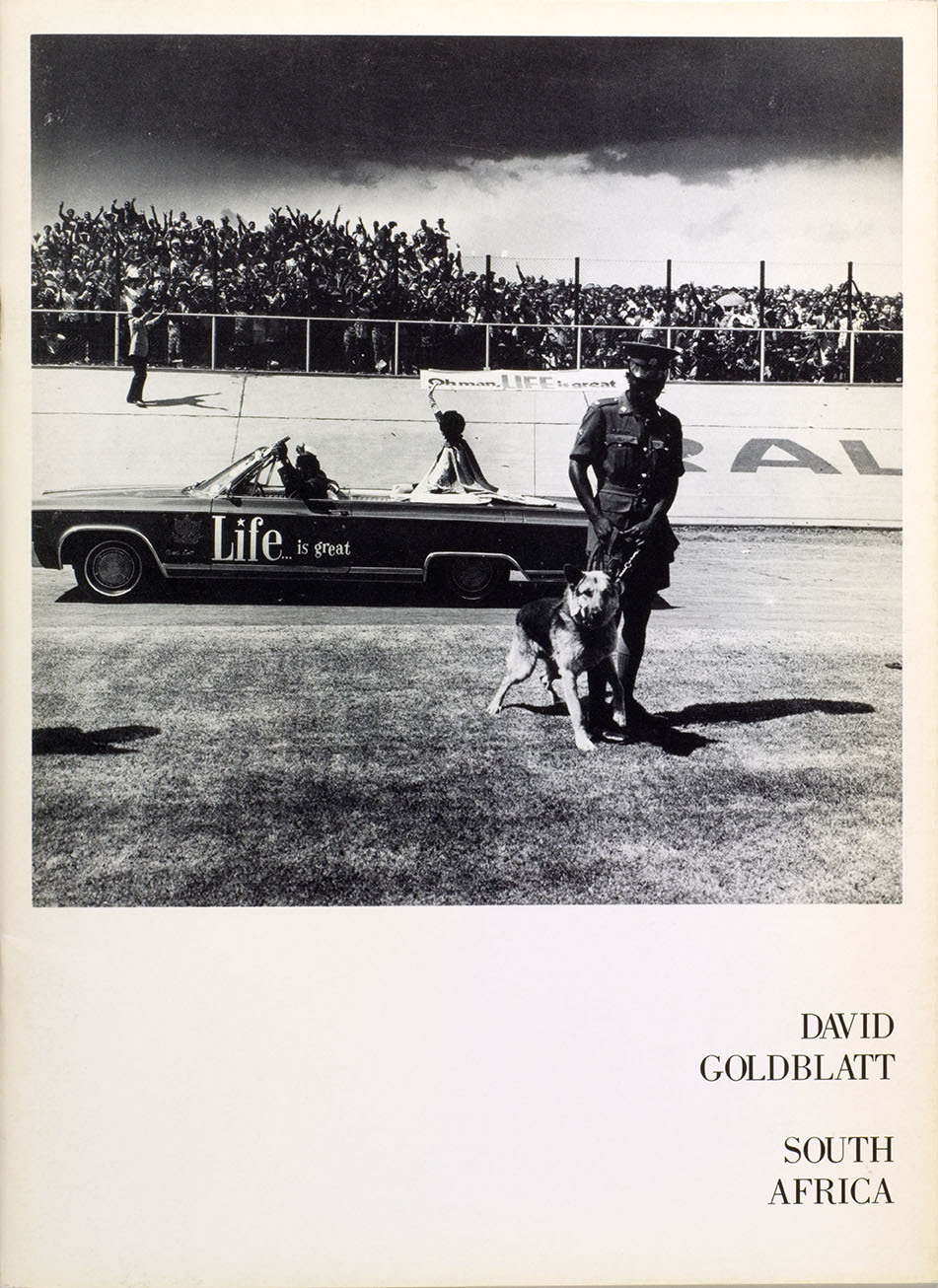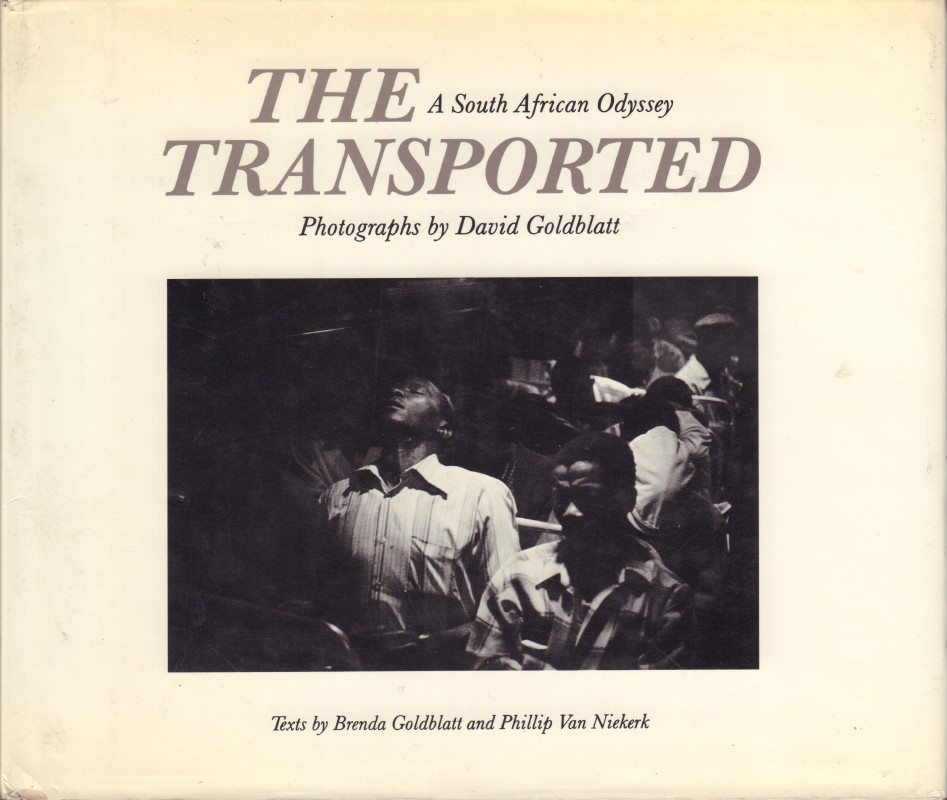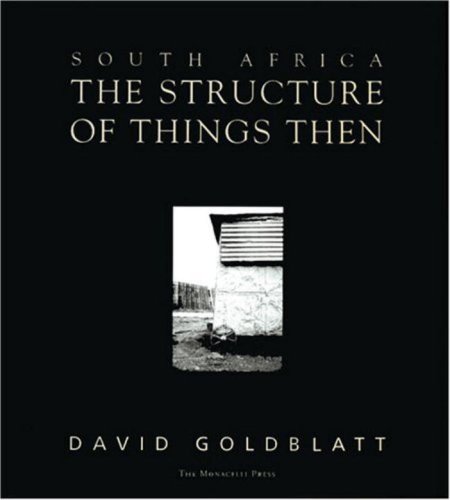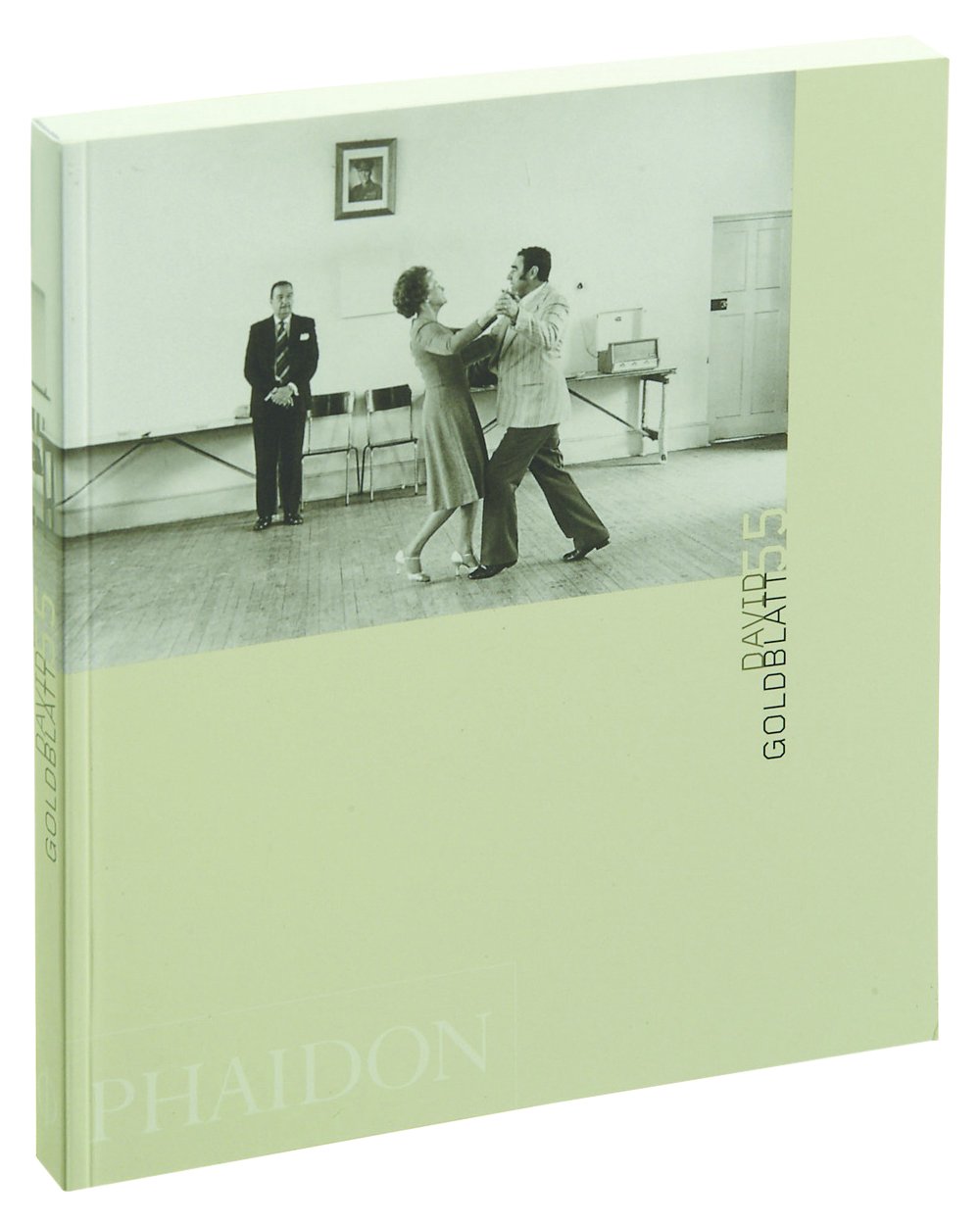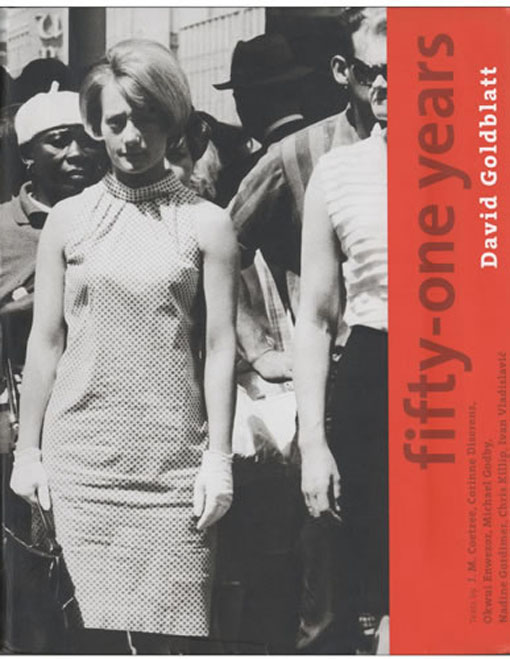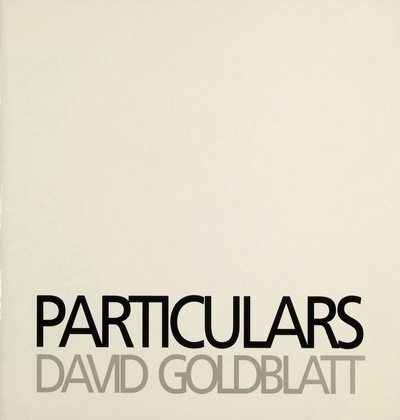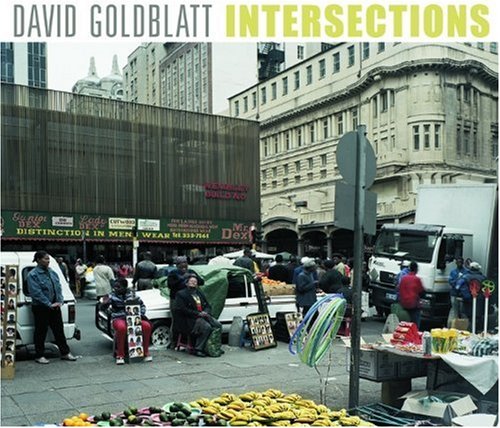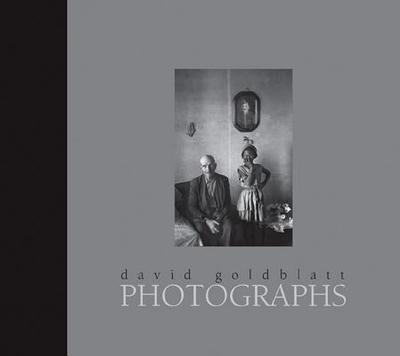 Solo exhibitions
David Goldblatt. Photographers' Gallery, London, 1974.
David Goldblatt. National Gallery of Victoria, Melbourne, 1975.
Photography Place, Sydney, 1975.
David Goldblatt. Durban Art Gallery, Durban, South Africa, 1977.
David Goldblatt. Market Theatre galleries, Johannesburg, 1978.
Johannesburg Art Gallery, 1983.
Pretoria Art Gallery, Pretoria, 1983.
David Goldblatt. South African National Gallery, Cape Town, 1983.
David Goldblatt. Side Gallery, Newcastle-upon-Tyne, 1985.
David Goldblatt. Photographers' Gallery, London, 1986.
Photographs from South Africa. Museum of Modern Art, New York, 1998.
David Goldblatt. Netherlands Architecture Institute, Rotterdam, 1998.
David Goldblatt. South African National Gallery, Cape Town, 1999.
Structures. Johannesburg Art Gallery, to November 1999.
In Boksburg. Krings-Ernst Galerie, Cologne, October 2001 – January 2002.
Fifty-One Years, Axa Gallery, New York, 2001; Centro Cultural de Belém, Belém, Lisbon, 2002–2003; Johannesburg Art Gallery, 2005; MACBA, Barcelona (organiser), February–May 2002; Witte de With, Rotterdam, 2002; Modern Art Oxford, Oxford, February–March 2003; Palais des Beaux-Arts, Brussels, April–June 2003; Lenbachhaus, Munich, July–November 2003; Bensusan Museum and Library of Photography, Johannesburg, July–November 2004.
Krings-Ernst Galerie, Cologne, 2002.
Mostly unseen. Goodman Gallery, Johannesburg, 2002.
Intersections. Michael Stevenson Gallery, Cape Town, October 2003; Michael Stevenson Gallery, Johannesburg, 2005. museum kunst palast, Düsseldorf, June–August 2005; Camera Austria, Graz, November 2005 – February 2006.Huis Marseille, Amsterdam, March–May 2007; Berkeley Art Museum, July–August 2007.
Asbestos. Michael Stevenson Gallery, Cape Town, October 2003.
Particulars & Rural South Africa. Goodman Gallery, Johannesburg, October–November 2003.
Galerie Marian Goodman, Paris, 2004.
David Goldblatt. Galerie des Franciscains, Le Grand Café, Centre d'art contemporain, Saint-Nazaire, November–December 2004.
David Goldblatt. Galería Elba Benítez, Madrid, May–July 2005.
David Goldblatt. Goodman Gallery, Johannesburg, 2005.
Rencontres d'Arles, Eglise Sainte-Anne, Arles, 2006.
Some Afrikaners Revisited. Michael Stevenson Gallery, Cape Town, October–November 2006.
Hasselblad Award Winner 2006. Hasselblad Center, Gothenburg, November 2006 – January 2007.
Hasselblad Award 2006. Fotografins Hus, Stockholm, February–March 2007.
Photographs. Forma, Centro Internazionale di Fotografia, Milan, June–August 2007.
Südafrikanische Fotografien 1952–2006. Fotomuseum Winterthur, Winterthur, March–May 2007.
Selected works. Marian Goodman Gallery, Paris, May–June 2007. Showing the series Particulars
Winner of Hasselblad Award 2006. Brandts Museet for Fotokunst, Odense, September–November 2007.
David Goldblatt – Photographs of the last decade. Michael Stevenson Gallery, Cape Town, 2008.
David Goldblatt. Galerie Paul Andriesse, Amsterdam, October–December 2008.
David Goldblatt. Museu de Arte Contemporânea (Serralves Foundation), Porto, 2008.
Joburg. Goodman Gallery, Johannesburg, 2008.
David Goldblatt. Västeras Konstmuseum, Västerås, 2008.
Intersections Intersected. Michael Stevenson Gallery, Cape Town, 2008; Open Eye Gallery, Liverpool, December 2008 – February 2009; New Museum of Contemporary Art, New York City, July–October 2009; Malmö Konsthall, Malmö, February–May 2009; University Museum of Contemporary Art, University of Massachusetts Amherst, 2011.
Fietas. Goodman Gallery, Johannesburg, 2009.
In the time of AIDS. Galería Elba Benítez, Madrid, 2009.
In Boksburg. Michael Stevenson Gallery, Cape Town, February–April 2009.
Some Afrikaners revisited. Oliewenhuis Art Museum, Bloemfontein, 2009.
Particulars. Howard Greenberg Gallery, New York City, April–June 2010.
South African Photographs: David Goldblatt. Jewish Museum, New York, May–September 2010.
Kith, Kin & Kaya. South African Jewish Museum, Cape Town, 2010.
TJ: Some things old, some things new and some much the same. Goodman Gallery, Johannesburg, October–November 2010.
'TJ', 1948–2010. Fondation Henri Cartier-Bresson, Paris, January–April 2011.
Selected works. Marian Goodman Gallery, Paris, January–February 2011.
Group exhibitions
 South Africa: the Cordoned Heart, South Africa and the USA, 1986.
Johannesburg Biennial, Johannesburg, 1995.
Contemporary Art from South Africa, Haus der Kulturen der Welt, Berlin, 1996.
In/Sight, African Photographers, 1940 to the Present. Guggenheim Museum, New York, 1996.
Blank Architecture, Apartheid and After. Rotterdam and Berlin, 1998.
Home. Art Gallery of Western Australia, Perth, 2000.
Rhizomes of Memory, Three South African Photographers. With George Hallett and Santu Mofokeng. Henie Onstad Kunstsenter, Oslo, 2000.
Eye-Africa, Revue Noir. Cape Town, Europe and the USA, 2000.
The Short Century – Befreiungsbewegungen in Afrika. Villa Stuck, Munich, 2001.
Haus der Kulturen der Welt im Martin Gropius Bau, Berlin, 2001.
Museum of Contemporary Art, Chicago, 2001.
P.S.1 Contemporary Art Center, New York, 2001.
Head North. Bildmuseet, Umeå, 2001.
documenta 11. Kassel, 2002.
Shock. Art Gallery of Western Australia, Perth, 2002.
Strangers: The first ICP triennial of photography and video. International Center of Photography, New York, September–November 2003.
Citigroup Photography Prize 2004. Photographers' Gallery, London, January–March 2004. With Robert Adams, Peter Fraser and Joel Sternfeld.
Citigroup Photography Prize 2004. museum kunst palast, Düsseldorf, May–August 2004.
Fotografie aus Südafrika. Galerie Christine König, Vienna, May–July 2004. With Santu Mofokeng and Zwelethu Mthethwa.
History, Memory, Society. With Henri Cartier-Bresson and Lee Friedlander. Tate Modern, London, 2004.
Eye Spy: Photography from the Permanent Collection. Museum of Contemporary Art San Diego, San Diego, USA, September 2004 – January 2005.
Faces in the Crowd – Picturing Modern Life from Manet to Today. Whitechapel Art Gallery, London, 2004–2005.
Faces in the Crowd – Picturing Modern Life from Manet to Today. Museo d'Arte Contemporanea, Castello di Rivoli, Turin, 2005.
Unsettled: 8 South African photographers. National Museum of Photography, Copenhagen, November 2004 – February 2005.
Afrika Remix. Zeitgenössische Kunst eines Kontinents. museum kunst palast, Düsseldorf, July–November 2004.
Africa Remix. Hayward Gallery, London, February–April 2005.
Africa Remix: l'Art contemporain d'un continent. Centre Georges Pompidou, Paris, May–August 2005.
Africa Remix. Mori Art Museum, Tokyo, May–August 2006.
Africa Remix. Moderna Museet, Stockholm, October 2006 – January 2007
documenta 12. Kassel, June–September 2007.
South African Photography 1950–2010. Johannesburg Art Gallery, 2010.
29th São Paulo Biennial, São Paulo, September–December 2010. With Moshekwa Langa and Kendell Geers.
54th Venice Biennale, ILLUMInations, 2011.
An exhibition of Goldblatt's photographs from the collection held by the Victoria and Albert Museum shown alongside group exhibition Figures & Fictions: Contemporary South African Photography, Victoria and Albert Museum, London, 2011.
Appropriated Landscapes: Contemporary African Art from the Walther Collection, Neu-Ulm, Germany, 2011–2012.
Revolution vs Revolution, Beirut Art Center, 2012.
Awards
1987: Hallmark Fellow at the International Design Conference in Aspen (IDCA), Aspen, Colorado
1992: Gahan Fellow in Photography at Harvard University
1995: Camera Austria Award of the City of Graz for Contemporary Photography
2001: Honorary Doctor in Fine Arts, University of Cape Town
2006: Hasselblad Award – Hasselblad Foundation International Award in Photography
2007: Honorary Doctor of Literature, University of the Witwatersrand
2007: Honorary Fellowship of The Royal Photographic Society
2009: HCB Award, Henri Cartier-Bresson Foundation
2010: Lucie Award, Lifetime Achievement Award, Lucie Foundation
2011: Order of Ikhamanga (Silver) (awarded, but declined by Goldblatt in protest over the Protection of State Information Bill)
2011: Honorary Doctor of Fine Arts San Francisco Art Institute
2013: Infinity Award: Cornell Capa Award for Lifetime Achievement, International Center of Photography, New York City
Collections
Goldblatt's work is held in the following permanent public collections:
Durban Art Gallery
Johannesburg Art Gallery
University of the Witwatersrand, Johannesburg
South African National Gallery, Cape Town
University of South Africa, Pretoria
Constitutional Court, Braamfontein, Johannesburg
Museum Kunstpalast, Düsseldorf
Victoria and Albert Museum, London
Bibliothèque nationale de France, Paris
Fonds national d'art contemporain, Paris
Barcelona Museum of Contemporary Art, Barcelona
Photographers' Gallery, London
National Museum of Photography, Copenhagen
National Gallery of Victoria, Melbourne
Museum of Modern Art, New York
San Francisco Museum of Modern Art, San Francisco
Museum of Contemporary Art San Diego, San Diego
Getty Center, Los Angeles